Today, I'll be looking and speccing the best cheap sim racing rig under £500. If you're new to sim racing, this will be perfect for you. It's important to remember that a Racing Simulator is supposed to offer you entertainment, so you don't need to go all out in spending Thousands of Pounds on the best equipment.
At some point or another, we've definitely all measured up the costs of having the higher end equipment. Fanatec, Simucube and Precision Sim Engineering may have even been an option. However, once you actually get a calculator out and try to justify spending £2,000+ on 'racing wheels' you'll struggle to justify it.
The truth is, if you're a beginner, a budget sim racing rig will be sufficient for your needs. Most beginners start out with a standard sim racing setup, for quite a few reasons. Carry on reading, it's important.
Imagine if you spent £2,000 on your sim racing equipment, only to realise that it's not for you. Maybe you don't have the space that you once anticipated, or maybe you just aren't enjoying the force feedback etc. It happens, I first bought a Logitech G29 for my PS4, but it wasn't great to use with F1 2019, but instead of researching and finding out that the racing wheels was more-so the issue… I decided to stop sim racing. But, you aren't here to hear my sob stories, let's work out the best cheap sim racing rigs.
The Best Cheap Sim Racing Rigs: 4Options
Next Level Racing F-GT Lite Cockpit
Playseat Challenge Racing Chair Cockpit
Playseat Evolution
GT Omega Art Simulator Cockpit
£240.99
£293.39
in stock
8 new from £240.99
as of September 21, 2023 12:19 pm
£402.12
in stock
as of September 21, 2023 12:19 pm
£196.34
in stock
as of September 21, 2023 12:19 pm
£219.95
in stock
as of September 21, 2023 12:19 pm
Last updated on September 21, 2023 12:19 pm
We've added the quick links above, but you'll find the write ups for these near the bottom of the page. Keep reading for a review on them!
What is a Sim Racing Rig?
A sim racing rig is the barebones cockpit, where your racing wheel, pedals, sim racing gear shifter and other accessories will be mounted. It's very similar to the way that your office desk holds your monitors, mouse and keyboard. However, typically, your sim racing products will be physically mounted to the rig, offering stability and precision improvements.
Quite often, a sim racing rig is also called a Cockpit. I prefer calling the barebones of the setup a Cockpit, with it then being referred to as a Rig when it's fully loaded with equipment.
There's a little confusion here, as 'rig' does sound like it will be the full thing, including the equipment, but it isn't. If you buy a rig, you'll still need to purchase the steering wheel, etc. However, I'll be doing a breakdown of this and including the equipment that you'll need, in order to start racing.
You don't want to spend all of your budget for a seat, only to find that you don't have any budget left to look for racing wheels!
What to look for in a Sim Racing Rig
Before just starting out and showing you the best sim rigs we have picked, I thought that it would be useful to show you what to look for. This will help you decide what's best for your personal preference, giving you complete control. Ultimately, the key factors will be your budget, the space you have for the whole rig and your personal requirements.
Space & Storage
Let's discuss the space element first. In addition to the physical space in your house or apartment, you need to consider the mounting capabilities of the wheel stand. Maybe the previous is less of an issue if you're getting a foldable cockpit, though.
In recent times, manufacturers are ensuring that their equipment (wheels, pedals, handbrake, shifters) all meet a specific standard so that all cockpits can be used with their equipment. This won't be the case with every single rig though, so it's something that you will need to consider.
Compatibility
Finding out if your cockpit will be compatible with your racing wheel and other equipment is really easy, as the manufacturers show this on their website. For example, take a look below. I've had a look for the F-GT Lite iRacing Edition, and I've highlighted the key part in yellow.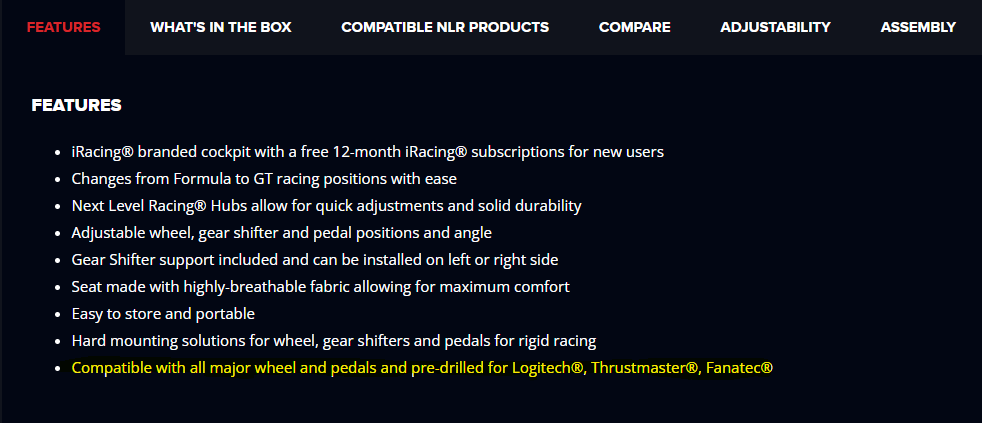 It makes sense for the manufacturers of the cockpits to also do things such as pre-drill holes, so that Thrustmaster, Fanatec and other brands can easily be mounted to the sim rig.
Budget
Your budget is also extremely important, as you don't want to pay more than you can afford, especially if you don't have any other equipment yet. I would do your best to avoid eBay, or any other pre-owned websites. I've found quite a few sore looking rigs when I've been looking for a budget sim racing setup, and these things don't have a mileage clock, so you never know when they're just about to give up. When buying new, you'll pay more, but you'll also get a manufacturer warranty. Which perfectly lines up the next thing to look for, the manufacturer!
Brand
As with anything, Brand is important. You'll probably find a good sim racing rig on Amazon, but when you look at the brand name, it's none existent. In Sim Racing, I've learnt to trust a collection of brands and manufacturers that consistently build the best racing simulators. Some of the best names that you'll find are Next Level Racing, TrakRacer and PlaySeat. There are plenty others, but as we are looking for a budget sim rig build, it's best to include relevant options here. Note, the above manufacturers also offer premium rigs, in addition to some of their starter rigs.
From the above list, I'd recommend the following (based on your budgets):
Support for Direct Drive Wheel Base
If you have a direct drive wheelbase, you'll want to ensure that the frame of your rig can handle the force that the DD base throws at it. If you've got a fully static rig, there's a good chance that you'll be fine, but with fully adjustable and foldable rigs, there does sometimes appear to be flex and loss of feeling under the higher speed turns. Most racing wheels will be compatible, but that's different to being able
I will admit though, if you have a direct drive wheelbase, you'll be better suited to a fixed rig such as the F-GT Elite, instead of the F-GT Lite.
When speccing your rig, if you do have a Direct Drive Wheelbase, you'll be able to add the mounts onto your racing simulator cockpit, if it doesn't come with one as default.
Mount Options
Not all rigs are built the same, some designed for easy storage, some designed for those with the big bucks offering a motion platform for the ultimate realistic racing experience. In the same regard, they will have different mounting options. For example, you might see a rig that doesn't have a handbrake mount, which might be the deciding factor in your purchase. Other mounts such as the Gear Shifter mount, monitor mount and emergency stop button mount exist too.
Again this is your personal preference, but I'm not too fussed with the mounts. Instead of the stick shift gear stick, I prefer the paddle shifters in all honesty. Most wheels have these, too. The one thing that you may need to check is whether the pedal mount can support a clutch pedal. I haven't found a rig that doesn't, yet, but that doesn't mean that a future rig may have an issue with the extra clutch pedal, or even load cell brake pedal.
Almost every rig will come with the basics, the wheel mount for your sim racing wheel, and some form of pedal mount. Wheel and Pedals mounts are really important, as you don't want your pedal set sliding all over the carpet. They will also offer you a next level racing position, which will be much more immersive than sitting down at your PC desk using a controller on a gaming pc!
Comfort
Comfort isn't something that you can see on a product description, but I'm sure most sellers will advise that "This is the comfiest racing seat on the market" or marketing around those words! Fortunately, you can read honest reviews now quite easily and there's a plethora of those online. Again, tread carefully, as in most cases people only review an item if they've got a bad thing to say. But it's important to read the bad things, as it could show an underlying issue in the gaming chair rig that you're looking for.
Adjustability, Stability, Durability
The next three factors are very important, or you'll be changing rigs in no time. You can't have both adjustability and stability in many cases, as when you gain adjustability, stability is lost. This works the other way, as you can't really adjust fixed sim racing setups, apart from reclining the seats.
If you want to replicate the seat position whilst your on F1, but then also replicate the seating position on your Rally game, you're going to need to look to an adjustable cockpit. You won't be immersed by a fixed system.
If you want maximum stability, you're going to need a fixed system, clamped to the floor and raised off the floor, which will offer hardcore sim racers the best experience by far.
Typically, a fixed, stable setup will also offer the most durability. This is because fixed objects are built to stand and last. Adjustable things rely on joints and hinges, which all ultimately fail after time.
Does a Sim Racing Rig come with a Seat?
This all depends on the rig that you're looking at. There are various types of rigs available for purchase, such as one that supports the most powerful direct drive wheels, or others which can be folded away and put under your bed.
If you look for a full rig, you'll find plenty of rigs with seats, alongside mounts for thrustmaster wheel or fanatec wheel.
4 Fantastic Beginner Sim Racing Rigs
Now you know exactly what you should be looking for in a Sim Racing Rig, we can take a look at some of the options that I have found. They're aimed to be perfect for beginners, so expect a solid but budget sim racing setup. With all of these below, I would expect nothing less than a steering wheel mount, comfy seat and a few more addons. However, the likelihood is that you would upgrade this as you continue your sim racing journey.
Next Level Racing F-GT Lite Cockpit
£240.99
£293.39
in stock
8 new from £240.99
as of September 21, 2023 12:19 pm
Last updated on September 21, 2023 12:19 pm
Jumping straight in, we start of with one of the most adjustable rigs for all sim racing wheels. The F-GT Lite by Next Level Racing offers quite a lot of convenience. It's foldable, comes with a racing simulator cockpit chair built into the frame as standard and can be used in multiple seating arrangements for Formula 1 or GT Racing.
Not only is this seat foldable, but you don't need to remove your steering wheel when you fold it up. This is a great design aspect of the F-GT Lite. Personally, it would take all of the fun out of playing, having to spend 20 minutes setting it up every time!
The seat is built for durability, with each hub able to withstand 150kg of force, meaning that it will handle what your force feedback offers it. This is pretty impressive for a foldable rig, as you normally only see this with a fixed wheel stand. The FGT Lite sim racing rigs are also pre-drilled, so your wheel base, steering wheel and pedal set will be secure whilst you're sim racing.
If you use a gear shifter, you'll be pleased to know that there's even a slot for this too, it can be mounted on the left or right, so it doesn't matter what your lead hand is.
It retails at £249.99, which doesn't seem too expensive. You get quite a lot for your money, and I would advise this chair to anyone that requires a folding rig. It's built to last and has some vital adjustability if you need different seating positions, which makes it a winner in my eyes.
The only flaw with this, is the thickness of the seat itself. I understand why it couldn't be thicker, as it's a foldable unit, but you do get 'deck chair' vibes when you look at it. If you can see past this, you'll have an excellent rig for your steering wheel and a fantastic beginner sim racing setup. Down the line, you can then explore the possibility of upgrading your setup.
Playseat Challenge Racing Chair Cockpit
Another industry leader, Playseat have been producing sim racing rigs since 1998. They have a wide range of rigs available, and I've selected two from their range today. There are big hitters that use Playseat equipment, including none other than Max Verstappen and Sebastian Vettel!
The playseat challenge is my first pick today, and it's another great option for your sim racing needs. Priced at £199, it comes in a little bit cheaper than the first pick, above. If you haven't purchased your racing wheel yet, this might be a huge factor in your decision.
It's another foldable unit, which means that your sim racing doesn't have to be compromised by a lack of space in your home. You can fit this neatly under, or at the side of your bed etc.
It certainly looks like it costs more than £200, which speaks volumes for the quality that Playseat consistently produce. The racing seat provides more comfort than the Next Level Racing seat, but you do compromise with the fact that there's only one single fixed seating position. In addition to this, there's currently nowhere to place a gear shifter.
What it does lack, it makes up for in terms of the sheer quality of the product. Playseat are confident in the structure of their equipment and offer a fantastic 2 year warranty on their products, which is double the 12 months that you get with other manufacturers.
Edit; Since I made this review, Playseat announced their GearShift Support module, which means that it does infact support Gear Shifters!
Playseat Evolution
I'm a big fan of the Playseat Evolution, and I have performed an in-depth review of this here. The first choice you'll have with the Evolution range is choosing a colour of the seat. Recently, Playseat have added some great colour options, a vibrant red alcantara that looks like it's been pulled straight out of a Mazda RX-7! They also offer white and 2 black options, leather or alcantara.
Where it gets interesting, is that for an extra £50 or so, you can obtain the Red Bull Racing ESports version, named the Evolution Pro. This looks fantastic, just take a look at it below! (Not only this, but Max has showed on stream that this is also the setup for his sim rig, which feels a little surreal.
Back to the standard Playseat Evolution, I like the look of the white seat, but I can only imagine that with wear, this would become grey over time. The red is definitely the one for me.
This is an incredibly comfortable chair. I tested this on a Sunday afternoon just before the Monza F1 race started, and I found myself in the chair for the whole race, I'll be honest I completely forgot I was in my sim rig. That's a solid three hours of just sitting, probably not something that I should boast about… but it just shows how comfortable this seat is.
As sturdy as this unit looks, it's actually foldable! If you have a direct drive wheel, you might need to unmount this from the wheel stand as I found it was a tight fit. However, you might get away with just releasing the wheel. This folds by the chair dropping down, similar to the rear seats in a car.
There's no compatibility issues with this cockpit, I used it with a Thrustmaster T300 and it worked just fine, although there was a little bit of flex on the wheel stand when I missed an apex and hit the wall.
I think this may struggle with a high powered direct drive wheelbase, but this doesn't take away the fact that this is a brilliant sim rig. Another huge thumbs up to Playseat. At just under £250, you'll do well to find better value.
GT Omega Art Simulator Cockpit
If you're looking for a fixed cockpit, I've picked out an extremely well priced one in the GT Omega Art Simulator. Made from heavy duty stainless steel, its finished with black powder coating. It's specs are impressive, supporting up to 200kg of weight and it comes with a 3 year warranty, which offers complete ease of mind when deciding to purchase. I'm always a bit hesitant with 12 month warranties, as I'm sure a sim rig made out of cardboard would last that long!
All Fanatec, Logitech, Thrustmaster are supported and there are pre-drilled holes ready for you to mount it to the wheel stand etc. If you aren't handy with a tool set, not to worry, as GT Omega include all tools and nuts to get you started.
Although it's a fixed unit, it has complete adjustability. The Wheel Stand height can be easily adjusted, to help you find the perfect racing position. If you choose not to take a GT Omega seat, they even offer multiple seat mounting positions, which is vital if you already have your seat.
You can also change the angle adjustment for your pedal set, so you can make sure you've got the perfect position for the throttle and brake pedal. A Gear shifter mount is supplied at no extra cost, which sits just to the side of the wheel stand.
Although it's not foldable, you can separate the unit into two pieces, which still allows you to save space, as it can be placed inside of itself, using half the space it once did. 2 bolts stand in the way of this, so it's pretty simple to detach.
This has been developed fantastically well, for the price of £199.95. For this price, you will need to supply your own seat, or pay £339.95 for the RS6 seat, which is an incredibly well built bucket seat.
Although the £340 is definitely at the higher end of the ones we have reviewed, it's important to remember that this is a dedicated seat and not a built in deck chair type seat.
Finding a Cheap Rig for your Sim Racing Wheels: The Conclusion
I've shown a few of the best budget sim racing rigs, from a plethora of options today. I hope that this helps you decide what to use for your sim rig. I've tried to pick the best options for a range of budgets, but also show you what you can achieve by stretching your budget a little.
These are all incredibly well built sim rig which will mean that you shouldn't have any issues with reliability, but they are also from respected manufacturers and arrive with a full warranty on them.
If you also think you've got a sim rig which deserves a mention, let me know! I'm always keen on checking out sim rigs and helping the Sim Racing community out.